Reliable Ductless Air Conditioning Services in Indian Wells
At Breeze Air Conditioning, we're highly experienced with ductless mini splits and ready for jobs of any size or scope in Indian Wells, CA. A ductless air conditioner can be a great option for cooling your home. They don't require a central duct system to keep your space at a comfortable temperature and can allow for temperature zoning throughout your home.
Up to four individual indoor units can all be hooked up to the same outdoor compressor. The indoor units can be controlled independently, and you can set them to different temperatures. This is a great way to keep your home more comfortable while reducing your overall energy usage. A mini-split system can be a great investment in your property that lowers your monthly energy bills.
Servicing Indian Wells Ductless Mini Splits
Most mini-split systems will operate reliably for about 20 years. They require relatively little maintenance in order to function properly and efficiently. If you've noticed that your mini-split system is behaving strangely, you'll want to have an expert take a look at it as soon as possible.
There are many signs of a faulty ductless system:
Increased energy bills
System icing
Unusual noises
Lack of cool air
An expert will be able to diagnose the cause of any problem and give you a cost estimate for the repair. You can trust a professional to perform a repair that will restore your unit to its full functionality so that you can have complete confidence in its operation.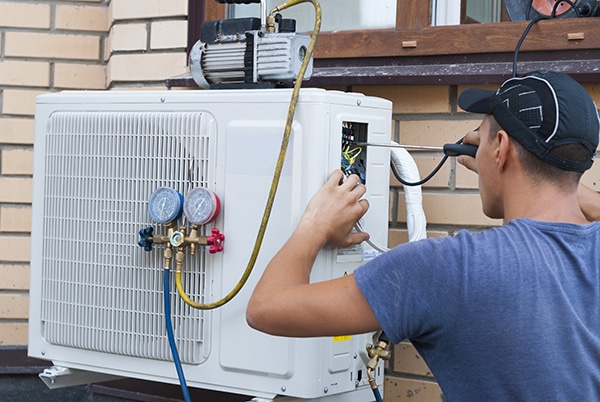 Mini Split AC services are also provided in:
Indian Wells' Ductless Air Conditioner Experts
At Breeze Air Conditioning, we value each of our Indian Wells customers and will go the extra mile in order to meet their individual needs. Our company is locally owned and operated, and our heating technicians and cooling technicians are NATE certified. We've been serving the area since 1980, and we'll stand behind the exceptional quality of all of our results. We're proud to take a leadership position with green technology, and you can trust us to always work with your best interests in mind. Our technicians are fully licensed, bonded, and insured, and they'll give each job their full attention from start to end.
Our company is based out of a shop on St. Charles Place in Palm Desert, and we're ready to work with all makes and models of mini-split systems. We give our technicians ongoing training to ensure that they can stay current with advances in the industry. Our goal is to exceed customer expectations with all aspects of our work. We charge reasonable rates for everything we do.
To learn more about how we could help with your mini split, give the team from Breeze Air Conditioning a call today.