You'll find reliable mini splits in Palm Springs, CA, even those that already have central air conditioning. A mini-split, or ductless air conditioner, can be useful in many different contexts. For example, those who add a room to their home, want a garage or tool shed cooled, or intend to turn their attic into a living space may opt for a mini-split. When a house doesn't have the structure to support ductwork, the owner may purchase multiple mini-splits. Others, constructing their own home, may opt for mini-splits even when a ductless air conditioner is an option.
Mini-splits are composed of an air handler, the compact device that goes in the room you want to cool, a compressor, which stays outside, and the refrigerant line that connects them. The refrigerant, traveling to the air handler, absorbs heat from your room and then has it released to the outside air when it reaches the compressor. The compressor can sit a maximum of 50 feet away from the air handler.
Enjoying Palm Springs Mini-Splits
Installing a ductless air conditioner is much easier than installing a traditional AC unit, but that's hardly the only benefit to buying this sort of product. After all, mini-splits do come at a rather high upfront cost. What justifies the cost?
Consider the following:
More energy-efficient performance
Variable-speed technology
Features like directional airflow
Possibility of multi-zone cooling
Ducts can let so much of your cool air seep out through holes and cracks before it reaches your rooms. You can avoid this waste with a mini-split and, as a result, save a ton of money on your monthly bill. With the help of variable-speed technology, you also won't wear down your system so quickly by constantly switching it on and off. It's no wonder that mini-splits, running as smoothly and quietly as they do, can last up to 30 years with the proper maintenance.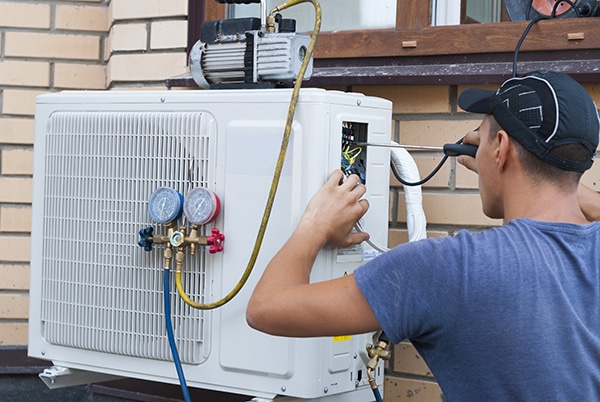 Moreover, you can create multiple temperature zones since every air handler has its own thermostat. We all have our temperature preferences, which central AC can't accommodate, but with these products, you get personalized comfort.
Mini Split services are also provided in:
Palm Springs Ductless Air Conditioner
Breeze Air Conditioning has been serving homeowners in Palm Springs and the surrounding areas since 1980, and we have a team of NATE-certified heating and cooling technicians who can consult with you about mini-splits. It won't take long for us to get out to your home. We're happy to say that we give our installation estimates at no charge.
For a convenient appointment for mini-splits in Palm Springs, contact us at Breeze Air Conditioning today.